EIELSON AFB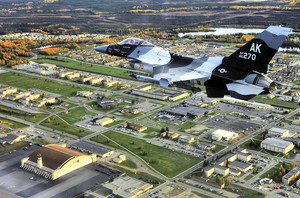 Eielson Air Force Base (AFB) (IATA: EIL, ICAO: PAEI, FAA LID: EIL) is a United States Air Force base located approximately 26 miles (42 km) southeast of Fairbanks, Alaska and just southeast of Moose Creek, Alaska. It was established in 1943 as Mile 26 Satellite Field and taken off deployment in 2007. It has been a Superfund site since 1989.
Its host unit is the 354th Fighter Wing (354 FW) assigned to the Eleventh Air Force of the Pacific Air Forces. The 354 FW's primary mission is to support Red Flag – Alaska, a series of Pacific Air Forces commander–directed field training exercises for U.S. Forces, joint offensive counter-air, interdiction, close-air support, and large force employment training in a simulated combat environment.
Eielson AFB was named in honor of polar pilot Carl Ben Eielson. The 354 FW is currently commanded by Colonel David A. Mineau.
Eielson AFB Housing Office
354 CES/CEIHH
2310 Central Ave Ste 100
Eielson AFB AK 99702
Phone COM 907-377-1840
DSN 317-377-1840
Fax COM 907-377-2151
DSN 317-377-2151
Email: 354CES.FamilyHousing@us.af.mil
Hours of Operation Monday - Wednesday & Friday: 7:30 a.m. - 3:30 p.m. Thursday: 7:30 - 11:30 a.m. (Alaska Time)
http://www.housing.af.mil/eielson
/
Corvias Military Living
354 Broadway St, Amber Hall
Suite 215
Eielson AFB AK 99702
Phone 907-372-2300
Fax 907-372-2304
Email: Eielson.Service@Corvias.com
Hours of Operation: Monday - Friday: 8:30 a.m. - 5:30 p.m. (Alaska Time)
Website:
http://corviasmilitaryliving.com
/