FORT RUCKER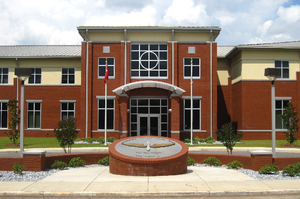 Fort Rucker is a U.S. Army post located mostly in Dale County, Alabama, United States. It was named for a Civil War officer, Confederate General Edmund Rucker. The post is the primary flight training base for Army Aviation and is home to the United States Army Aviation Center of Excellence (USAACE) and the United States Army Aviation Museum. Small sections of the post also lie in Coffee, Geneva, and Houston counties. Part of the Dale County section of the base is a census-designated place; its population was 4,636 at the 2010 census.
The main post has entrances from three bordering cities, Daleville, Ozark and Enterprise. In the years before the September 11, 2001 attacks, the main post (except airfields and other restricted areas) was an open post with unmanned gates allowing civilians to drive through. Following the attacks, this policy was changed, and the post is now closed to unauthorized traffic and visitors.
Fort Rucker Housing Office
Housing at Fort Rucker is privatized and managed by Corvias.
5700 Building, Room 160, Fort Rucker, AL 36362
Phone: 334-503-3644
Phone: 1-866-525-HOME (4663)
Fax: 334-503-3649
Email: FortRucker.RelocationOffice@Corvias.com
Leasing and Relocation Manager: Melissa Bryson
Hours: Monday - Friday: 7:30am - 4:30pm
http://rucker.corviasmilitaryliving.com
/