LUKE AFB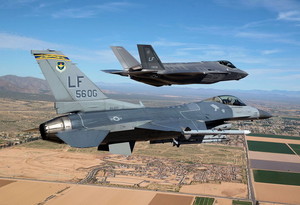 Luke Air Force Base (IATA: LUF, ICAO: KLUF, FAA LID: LUF) is a United States Air Force base located seven miles (11 km) west of the central business district of Glendale, in Maricopa County, Arizona, United States. It is also about 15 miles (24 km) west of Phoenix, Arizona.
Luke AFB is a major training base of the Air Education and Training Command (AETC), training pilots in the F-16 Fighting Falcon. On 31 March 2011 it was announced that the F-35 Lightning II would replace the F-16 as the primary training aircraft at Luke, although the date of deployment of the new aircraft to Luke and reorganization plans were not announced. On 16 July 2013, the Air Force announced that Luke AFB will house a total of 144 F-35A Lightning IIs.
It is a designated Superfund site due to a number of soil and groundwater contaminants.
Luke AFB Housing Office
Housing Management Office
13970 W. Gillespie St
Luke AFB Az. 85309
Phone (623) 856-7643
DSN 896-7643 -- (623) 856-7544
Fax (623) 856-3718 -- DSN 896-3718
Email: 56ces.housing@luke.af.mil
Hours of Operation M-F - 7:00am - 4:00pm (MST)
Privatized Housing - Balfour Beatty Communities
1368 Kachina
Glendale Az. 85307
Phone (623) 388-3518
Fax (623)322-4788
Hours of Operation M,T,Th,F - 8:00am - 5:00pm W - 8:00am - 7:00pm
http://www.lukefamilyhousing.com
Balfour Beatty Communities oversees the housing for Luke Air Force Base. Base housing consists of several types of homes that are available based on rank and family size. Luke AFB has 620 homes in Sagauro Manor, north of Glendale Avenue and Ocotillo Manor, south of Glendale Avenue. 469 of these homes are single family and townhomes with spacious 2, 3, 4 and 5 bedrooms, fully equipped kitchens, carports, washer/dryer hookups, and some fenced-in backyards designated for E1-E6, E7E9 and O1-O6, located in the Saguaro Manor. 151 townhomes with 3 and 4 bedrooms are designated for E2-E6 and E7 are located in the Ocotillo Manor. Children will enjoy playing in the playgrounds and tot lots that are located throughout the neighborhood.