29 PALMS MC AIR-GROUND COMBAT CENTER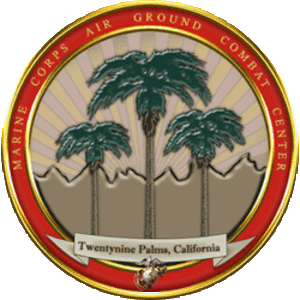 The Marine Corps Air Ground Combat Center (MCAGCC), also known as 29 Palms, is a United States Marine Corps base. It was a census-designated place (CDP) officially known as Twentynine Palms Base located adjacent to the city of Twentynine Palms in southern San Bernardino County, California. As of the 2000 census, the base had a total population of 8,413. The zip code of the base is 92278.
The CDP was discontinued prior to the 2010 census.
29 Palms Marine Base Housing Office
Housing is privatized and managed by Lincoln Military Housing:
http://lincolnmilitary.com/installations/twentynine-palms-mcagcc
All officer and enlisted personnel accompanied by their bona fide family members are eligible to apply for Military Family Housing. The wait times for family housing vary, depending on rank and number of dependents.
Housing Office (Family)
1003 Cottontail Road
MCAGCC
Twentynine Palms, CA 92278
Phone 760-830-6611
Phone (DSN) 312-230-6611
Fax 760-830-6469
Fax (DSN) 312-230-6469
Mon - Fri 8:30 a.m. - 4:00 p.m.
Sat, Sun & Holidays Closed