BARSTOW MC LOG BASE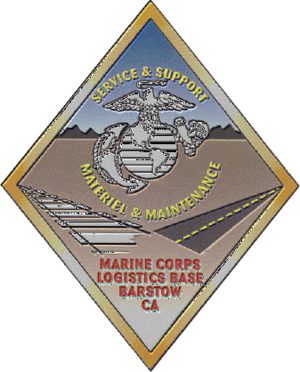 Marine Corps Logistics Base Barstow is a United States Marine Corps supply and maintenance installation located in the Mojave Desert east of Barstow, in San Bernardino County, Southern California.
Its mission is to rebuild and repair ground-combat and combat-support equipment and to support installations on the West Coast of the United States. Today, one of MCLB Barstow's most important facilities is the Marine Corps Logistics Bases' Maintenance Center. The only other facility of this kind is located at MCLB Barstow's sister installation, Marine Corps Logistics Base Albany.
Barstow Housing Office
Currently, there are 74 government quarters for married families aboard the base. There are two areas - Desert View and Day Street. There are 66 Quarters in Desert View housing which include Junior Enlisted, SNCO, and Company Grade quarters. Quarters include 2 mod bedrooms, 3 bedrooms and 4 bedrooms. There are 8 Quarters on Day and Quarters Street which are Field Grade quarters, including 3 bedroom and 4 bedroom units.
The housing office numbers are: 760-577-6872 or DSN 282- 577-6872.
All applications for housing can be faxed, 760-577-6071, to the housing office before you PCS in advance, including a copy of orders showing your detachment date. The family housing office is located in the community center building 363.