CORONADO NAVAL AMPHIBIOUS BASE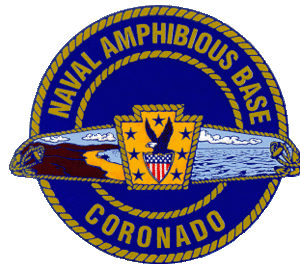 Naval Amphibious Base Coronado (NAB Coronado) is a naval installation located across the bay from San Diego, California. The base, situated on the Silver Strand, between San Diego Bay and the Pacific Ocean, is a major Navy shore command, supporting over 30 tenant commands, and is the West Coast focal point for special and expeditionary warfare training and operations. The on‑base population is 5,000 military personnel and 7,000 students and reservists.
Coronado Housing Office
All officers and enlisted personnel with accompanying dependents are eligible to apply for Military Family Housing (MFH). MFH is limited and must be applied for at the Assignment/Referral Office, located at Naval Base San Diego. Telephone: 619-556-8443
Base Address:
3rd St & Alameda Blvd
Coronado, CA 92118
Phone 619-545-1011
Phone (DSN) 735-1011
Fax (DSN) 735-8991
CNRSW Military Family Housing Welcome Center
2625 LeHardy Street
Naval Base San Diego
Building 3544
San Diego, CA 92136-5182
Phone 619-556-8443
Phone (DSN) 312-526-8443
Fax 619-556-1803
Fax (DSN) 312-526-1803
Mon - Fri 8:00 a.m. - 5:00 p.m.
Sat - Sun - Closed
Holidays - Closed