NELLIS AFB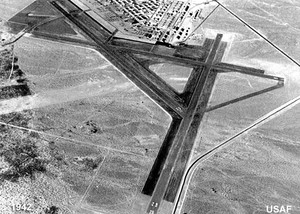 Nellis Air Force Base ("Nellis" colloq.) is a United States Air Force installation in southern Nevada with military schools and more squadrons than any other USAF base. Nellis hosts air combat exercises such as Exercise Red Flag and close air support exercises such as Green Flag-West flown in "Military Operations Area (MOA) airspace". associated with the nearby Nevada Test and Training Range (NTTR). The base also has the Combined Air and Space Operations Center-Nellis.
Nellis AFB Housing Office
Housing Management Office at Nellis AFB is ready to help in you transition to new home or community. You should contact HMO before entering into any contract for housing.
Nellis AFB Housing Office:
4601 Richard Kisling Drive,
Las Vegas, NV 89115
Phone: (702) 652-1840 Fax: (702) 652-2652
Hours of operation: M-F - 7:30am - 3:30pm (PST)
http://www.housing.af.mil/nellis
/
Military housing at Nellis AFB is privatized and managed by Hunt Military Communities - Nellis Family Housing. Hunt is responsible for maintaining, repairing, constructing and managing the community. In addition to your option to purchase and rent housing in the local community, you now may choose to live in privatized housing by signing a tenant lease agreement with Hunt Company.
For more comprehensive information about Nellis AFB housing by Hunt, you may reach Nellis Family Housing Office, as below:
Address:
4601 Richard Kisling Drive,
Las Vegas, NV 89115
Office: (888) 622-8106
Fax: (702) 677-3659
http://www.nellisfamilyhousing.com